Popcorn Theme has been an amazing success with both WPEagle and Carl Broadbent's community. It's now active on hundreds of sites and is gaining amazing feedback from affiliate marketers that actively use the theme. A big thank you everyone! ❤️
Ever Since WordPress 5.8, it has become clear that although traditional themes aren't going anywhere yet, there is a new way to develop themes which are even more customisable for web masters using WordPress' Full Site Editor.
Not wanting to hang around and get left behind, the Popcorn Theme team have been (not so) secretly developing a Full Site Editor version of Popcorn Theme. This is not an alternative to the original Popcorn Theme, it is 'inspired' by the original.
And you can download it Today! – Just login to your account and grab your copy!
Important Info
Please bear in mind that the WordPress Full Site Editor is still in Beta. Although usage is great, some bugs can crop up occasionally. Usually fixed by refreshing your browser.
Please also note that some updates can potentially break your site as with all themes and plugin updates. Make sure you take a full backup prior to any major changes.
We suggest you install FSE on a new site first so you can get used to it. Alternatively you can install WordPress locally on your PC or Mac (We recommend LocalWP). Its quite a shift from traditional themes.
Popcorn vs Popcorn FSE
| Feature | Popcorn | Popcorn FSE |
| --- | --- | --- |
| Theme Size (Zipped) | 255kb | 108kb |
| Customisable Affiliate Disclaimer | 1 Global | Unlimited |
| Customisable Header and Footer | No | Yes |
| Customisable Post / Page Templates | No | Yes |
| Gradients (Site Wide) | No | Yes |
| DuoTones (Site Wide) | No | Yes |
| Number of CSS lines | 1200 approx | 25 approx |
| Amount of PHP code | Lots | Hardly any |
Requirements
We would strongly recommend that you use the latest version of WordPress (5.9 at time of writing).
You WILL need to have the Gutenberg plugin installed. (This allows us to hook into newer blocks not yet available for WordPress Core). We imagine that this requirement would be removed once out of Beta.
Getting Started!
Login to your WordPress Dashboard
Install and Activate Gutenberg Plugin (The rating is completely unjustified) It is a good plugin!
Install and Activate Popcorn FSE. (Download available from your Popcorn Theme Login).
Once activated, you can now launch the Editor (Appearance > Editor)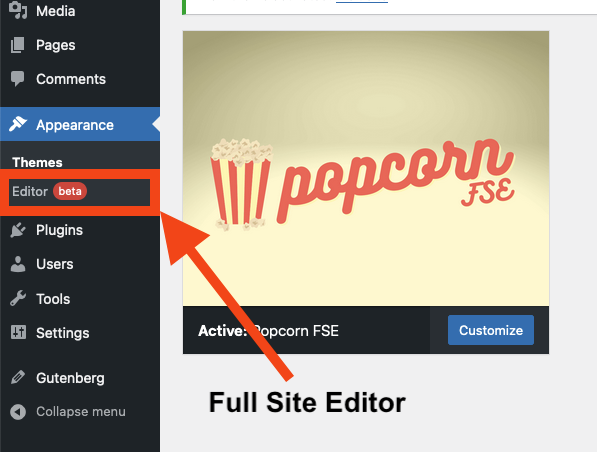 Explore and gat familiar with the Editor

Full Site Editor Navigation – This is where you navigate the templates and template parts of your site.
Block Tree Structure (List) – you can easily manipulate locations of blocks in the tree to reorder items, delete, duplicate, etc.
Settings – Your current template settings and settings for the block that you have currently selected in the tree.
Styles – this is where you can set global styles for blocks, typography, colors etc.
Tools Menu – Various tools for the editor.

The current default templates in Popcorn FSE are:

Single Post – This is typically a blog post
Single Post with Sidebar – A blog post with a sidebar.
Page – A standard Page
Page with Sidebar – as with the standard page, but with a sidebar.
Index – this is your blog roll.
Sitemap Template – add a HTML sitemap (Create an empty page, and change the template)
Front Page – this is a custom 'Popcorn Style' front page.
404 – For any pages not found
Search – for search results
Archive – for Categories, Tags, Authors etc.
If you edit any of the above and feel like you have gone wrong – you can clear customisations for each template.

The current Template Parts are the following:

Hero – this is the Hero section that is reusable anywhere you want.
Page content – this is the layout for page content (Both Page and Page with Sidebar).
Inline Header – this is the inline header that came with Popcorn.
Stacked Header – this is the Standard Stacked Header.
Affiliate Disclaimer – Edit this and this will change the disclaimer for all posts across the site.
Post Content – this is the layout for blog post content (Both Single and Single with Sidebar).
Post Layout Wide list – this is the WP Query for wide blog roll.
Footer – this is the footer used across your entire site.
Sidebar – this is the sidebar for both Blog and Pages.
As with the templates, if you edit any of the above and feel like you have gone wrong – you can clear customisations for each template.
FAQs
Can you upgrade the existing theme to Popcorn FSE?
Unfortunately not – we wanted to keep the 2 projects separate as they have different development paths.
Will Popcorn Original still be Maintained?
Absolutely – keeping the theme up to date and clear of bugs is a priority for all our themes.
Will Popcorn Original be migrated to a Full Site Editor version?
Not at this point, but never say no.
Will changing themes affect SEO?
Any change can affect SEO – so you have been warned.
Where did the Customizer go?
Full Site Editor Themes typically do not use the customizer. It is still there, but its not publicly available in the WP Dashboard. just add the following to your domain…. /wp-admin/customize.php – how long that will stay there, we don't know.
Can I still use Custom CSS?
Yes – no reason why not.
Why does the Gutenberg plugin get so many bad reviews?
After reading the reviews, it seems that some are missing the old classic editor. The low rating is unjustified, and is actively developed.